THE ITALIAN VERSION OF "TOMORROW'S PARTIES" DEBUTS AT THE ROMAEUROPA FESTIVAL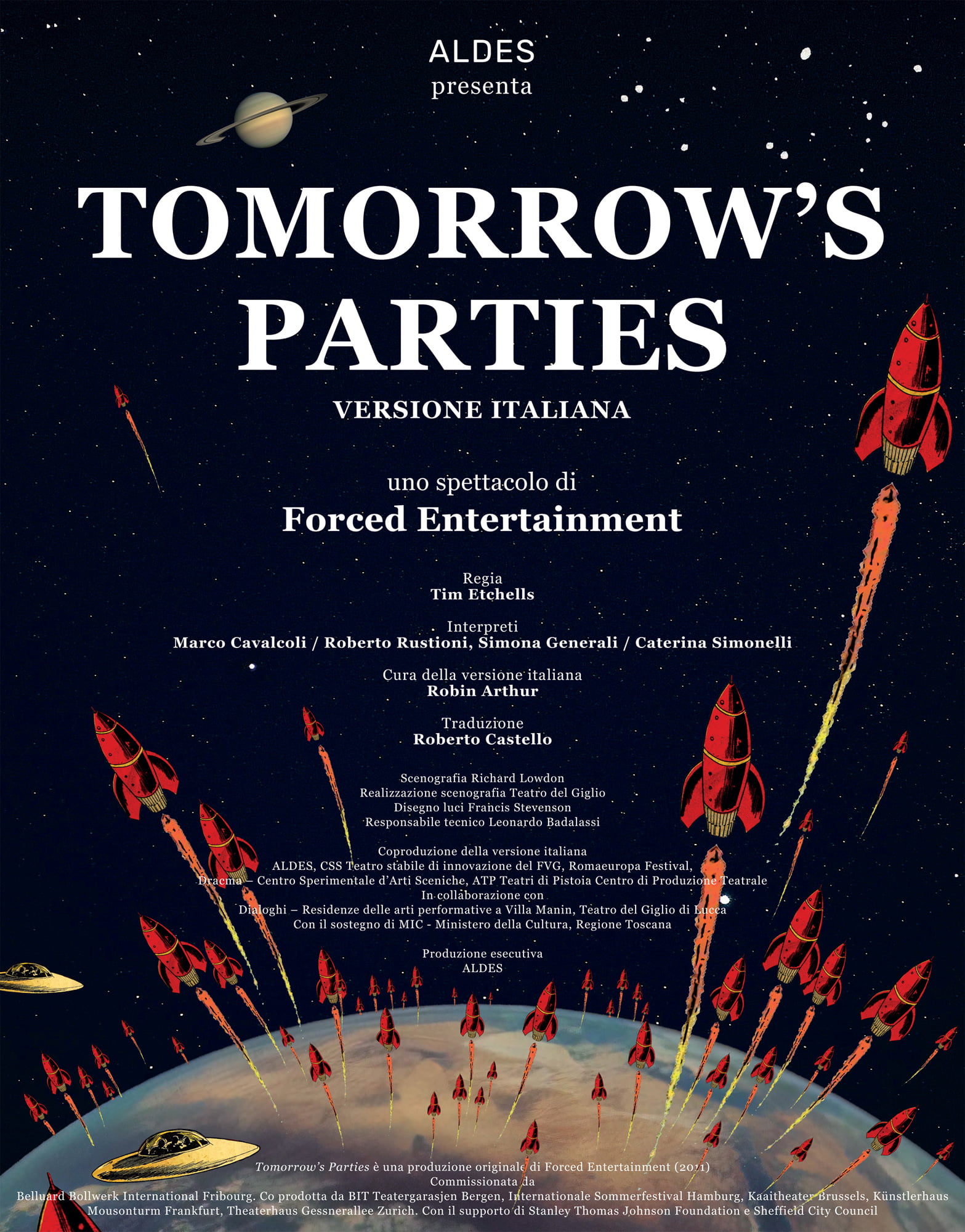 Founded and led by Tim Etchells, the historic Forced Entertainment company has gained attention for its extraordinary work on contemporary British drama. Among its most acclaimed plays is certainly Tomorrow's Parties, a snapshot of the hopes and fears of an entire era. This is perhaps why, more than a decade after the play's debut, Roberto Castello and Robin Arthur (among the company members) with the production of ALDES decided to translate and remount it (for the first time, not in the original language) to make it accessible to Italian audiences as well without the obstacle of subtitles.
web page (it) of the show 'Italian version': www.aldesweb.org/produzioni/tomorrows-parties-versione-italiana
Première
3-4-5/11/2023 Mattatoio / Romaeuropa Festival
03/11 – 9pm
04/11 – 9pm
05/11 – 7pm
next dates
09/11/2023 Teatro Bolognini / Teatri di Pistoia, Pistoia
13/11/2023 Teatro Toselli / PDV, Cuneo
14/11/2023 Teatro Magnetti / PDV, Cirié TO
18/11/2023 Città delle 100 Scale Festival, Potenza
16/02/2024 Teatro Niccolini / FTS, San Casciano FI
17/02/2024 Teatro Mascagni / FTS, Chiusi SI
04/04/2024 Teatro Boiardo / ATER, Scandiano RE
13/04/2024 Palamostre – Sala Carmelo Bene / CSS, Udine
14/04/2024 Palamostre – Sala Carmelo Bene / CSS, Udine
INFERNO: UBU Award 2022 – Best Dance Show
12/12/22, INFERNO by Roberto Castello in collaboration with Alessandra Moretti wins the Ubu Prize 2022 / Best Dance Show.
"…Castello proves himself unwavering in his belief, consistently sarcastic and anarchical and abetted by an excellent group of four female and two bearded and long-haired male dancers, each possessing his or her own particular character and physicality, alongside a mistress of ceremonies, Alessandra Moretti, expressing herself in a discourse on art in pseudo-Brazilian.
(…) Then it is time for the infernal 'truth', an extended dance, full of energy, a jubilant saraband of great virtuosity, deliberately excessive both in intensity and duration, like those who have literally been possessed by the Devil. Castello's fascination with the tradition of African movement, tackled in his previous Mbira, here brims over in breath-taking rhythmic mastery; the sounds are techno, jazz and folk…"
Elisa Guzzo Vaccarino –  BALLET2000 ed. English n290 – 2022
"[…] the choreography is aggressive and captivating, evolving from some poses of apathetic dullness into aggressive visions and pure pleasure (the physical difficulty is as evident as effective). This Inferno almost becomes a choice of lifestyle, vitality and pleasure…"
Gianfranco Capitta – il manifesto – 20/11/21